New Class dates are posted in classes section  for fall 2017!

Current tapestry on the loom. 5 ft. wide and will be about 32 inches high. (June 2017)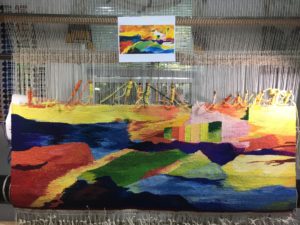 Finished tapestry…2 ft. x 3 ft. Verdant Blush.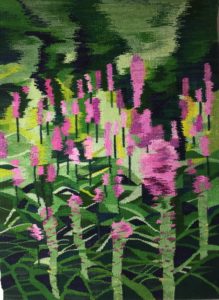 interesting video of weaving sounds on a horizontal  loom
Current tapestry on the loom. 24inches wide will be approximately 40″ high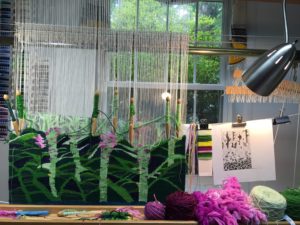 Finished tapestry . Title is River Flow. size is 24 "wide by 36" high.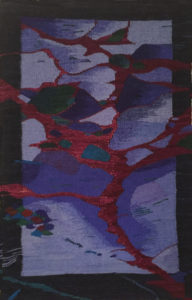 Current Tapestry so far May 2016.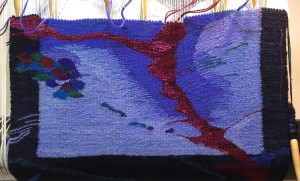 New Design for current tapestry. I took a photo of some rocks in Nova Scotia and decided to weave a design from them. the tapestry is 2 ft. wide and will be 4 ft. high.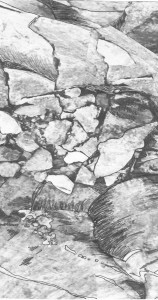 Martha Jefferson Hospital in Charlottesville, has acquired my tapestry Springburst. It is 4 ft. wide and 2 ft. high.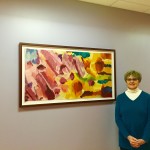 March 2016: This little 8″ sq tapestry is off to Convergence this summer into the ATA Unjuried Small Tapestry exhibit in Milwaukee. July 2016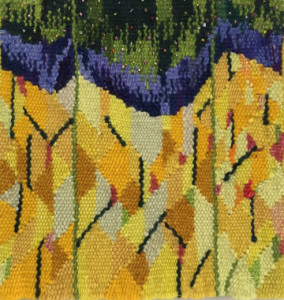 Happy to support the US State Dept. Art in Embassy Program. This tapestry , Along the Blue Ridge Parkway, went off to Tashkent, Uzbekistan for 2 years.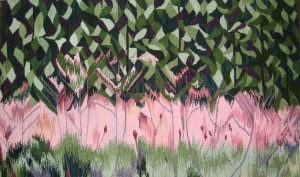 October 2015:New tapestry just off the loom. Size is 5 ft. wide by 3 ft. high. Title "Shadows in the Forest"..time to work on new design and get weaving again!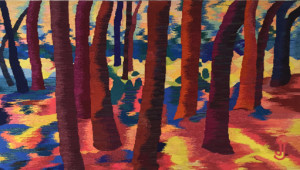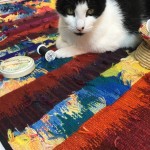 my cat Van Dyck likes to help when it is time to finish a tapestry.
this tapestry has returned home after traveling in the Small Tapestry International4 . Opening  at the second venue. Briggs Museum of Art, Dover DE. October 2-Novemeber 22,2015 My tapestry Across the River is part of this exhibit. Later it will travel to   Artspace, Raleigh, NC January 16, 2016 till March 5,2016. This tapestry is 14″ high by 6″ wide.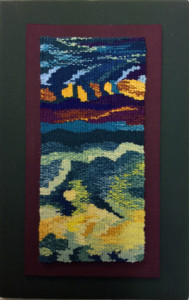 Classes for 2015 are completed. New schedule to be posted in January for 2016. Ongoing open studio always available for those that wish to continue their studies. Check the classes section for more information.
The first  photo below  is the design for the current tapestry on the loom. It is quite large at 5 ft. wide by 36″ high . The design is a collage which is one of my favorite ways to work.The bottom photo  is the actual tapestry with about  24  inches woven.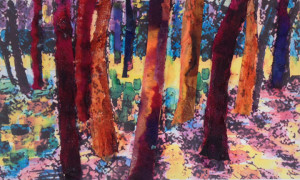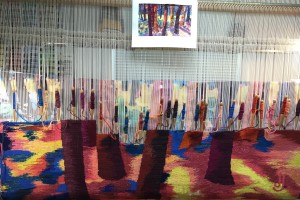 Two tapestries were on the loom so I had to wait until both were done for cutting off. I don't usually do that but it worked out for the best this time to wait. This one is called Day Becomes Night and is 12″ wide by 48″ long.

Another new tapestry for this year. it is  22″ by 22″. Title is "Folded".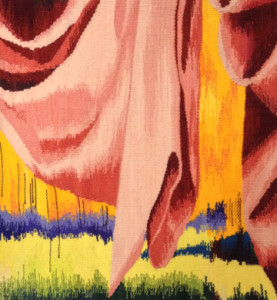 Just cut off the loom  February 2015… new tapestry. 48″ wide by 33″ high..no title yet!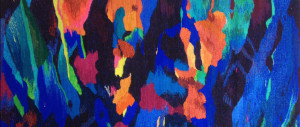 The Art in Embassy program features the work of American Artists in our various embassies throughout the world. I just had Autumn Mosaic chosen for a 2 year loan in Dili, East Timor. A small country in southeast asia but one with a long history of beautiful weaving. This tapestry is 23″ wide by 36″ high.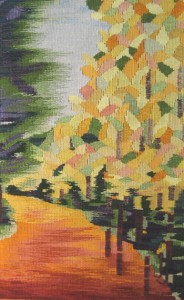 "Sailors Take Warning" has been accepted in a juried exhibit entitled Stories of the Sea to be exhibited from February 26 until April 26, 2015 at the  Florida Maritime Museum in Cortez , Florida. www.floridamaritimemuseum.org. click on thumbnail for full size photo.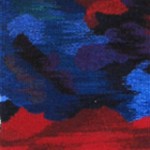 The Art is the Cloth juried exhibit will be  on exhibit at the Deerfield  Academy. Deerfield , MA. March 26- May 1, 2015  Opening reception Thursday March 26 from 5-7:30pm. My tapestry Sequencing Time was selected for this exhibit.  The tapestry is 12″ wide by 48″ long. click on thumbnail for full view.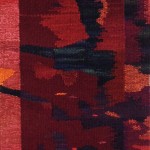 Recent tapestry  cut off  the loom. It is 12 " wide and 38″ high. It was inspired by a path I saw at Giverny in Monet's garden. This one is called The Garden Path. click on thumbnail to see full tapestry.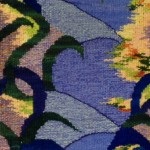 This tapestry was accepted into the American Tapestry Biennial. Over 230 tapestries were submitted and 37 were accepted. The exhibit traveled to several locations in the United States but has now closed.  Title is "Forest Edge" size is 48 in, wide by 24 in. high