Classes
During the year, Joan teaches beginning and intermediate tapestry classes in her Charlottesville,VA studio. She offers both individual instruction as well as small group weekend workshops. All supplies are provided including the use of a loom for the Beginning Tapestry Workshop. For the intermediate class student should have a loom or can rent one from me.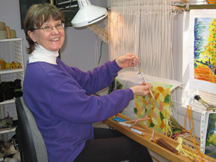 2015 Class Schedule
Tapestry Weaving: Beginning Tapestry Workshop. 2016 schedule to be posted in January..The 2 day class concentrates on the basic techniques of tapestry weaving on a lap held loom. The classes are held in a friendly, learning atmosphere in the artist's studio in order to see a working studio as well as the opportunity to try various types and sizes of tapestry looms. The 2 day class covers the basics of tapestry weaving such as warping the loom, finishing and various design shaping techniques. Tapestry weaving is a uni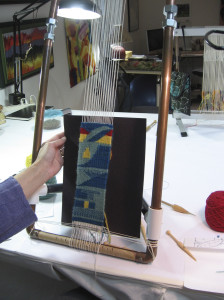 que , timeless technique but can be adapted in a multitude of colorful ways to the challenges of contemporary designs. Each student will take home a small tapestry sampler they completed during the weekend. Classes are offered several weekends in the spring, early summer and the fall. Classes are 10-4 on Sat. and 10 – 4 on Sunday. $190 for both days and all supplies included. No previous tapestry experience is necessary. For those from out of town there are many nearby motels available. The photo on the right is from the second day of a beginning student's work. Please register in advance. contact me via email below.
The Next Step:Intermediate Tapestry Class.  2016 schedule to be posted in January,. 10- 4 each day. After basic tapestry weaving class  what next? lean how to translate your ideas into woven tapestries. How to work on designs, figure out colors, what can be woven. Workshop designed for those who have taken a basic tapestry class but want to learn how to move onto the next step.  Student should have a tapestry loom or can rent one from me. Sign up for one day or two depending on your schedule. $75 each day. please register in advance . . contact me via email below.
Ongoing:
Open Studio: After the basic tapestry class what next? Sign up in advance for a time that meets your schedule. We can focus on designing, review and or new techniques, how to work with  color and solving particular weaving challenges. Designed for those who have had a basic tapestry class and would like assistance continuing  on a design  or starting something new. Bring your design ideas and loom to work on your tapestry. Focus on your particular design concerns; get advice and technical solutions. Plan colors, warp your loom, review ideas and learn new techniques. $25 per hour. Minimum 2 hour sessions. Please register in advance but this option is ongoing. Pick a date and check with me.
For more information contact Joan Griffin. or joangriffintapestry at gmail.com  .. (substitute @ for at)
---