Commissions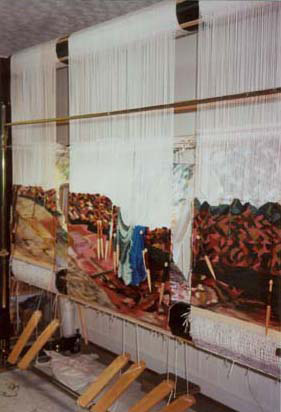 Joan Griffin creates handwoven contemporary tapestries of the finest materials to ensure durability and ease of installation. The weaving process, a careful interlocking of warps and wefts, enables the artist to develop an interpretation very different from a painting or a photograph. When woven , the specially dyed yarns are combined thus blending the colors visually. This gives the tapestry a subtle play of light and dark, with the important element of texture.
After many years as a watercolor artist, then a weaver of fine clothing, Joan Griffin began designing and weaving tapestries in 1980. Her commissions have included work for corporation, hospitals, universities as well as numerous private clients. She has also exhibited work extensively in museums and galleries throughout the country.
Griffin has developed a design direction that ensures each tapestry has a specific meaning for its intended purpose. She works primarily , though not exclusively, from nature as a design source, from abstract to representational.
In short, the tapestries are designed to harmonize with the surrounding and make a distinct personal or corporate statement.
---